Senator Ted Cruz recently introduced a bill limiting the terms for members of Congress, then immediately announced his own bid for a third term.
That ironic karma came back to bite him on Saturday as a potentially career-ending racist text from his campaign went insta-viral after being shared on Twitter.
A plea for donations from his text chain misidentified his Democratic opponent, Rep. Colin Allred, as a different Black man recently used as a MAGA scapegoat.
First shared by New York State Assemblymember Alex Bores, the text reads in part:
"This is Ted Cruz–I have breaking news:

Far-left Democrat Colin Allred just announced he's running against me in 2024. Allred doesn't represent Texas values–not even close.

He supports Biden's far-left agenda of higher taxes, reckless spending, open borders, gun control, and soft-on-crime.

Last year he voted with Nancy Pelosi 100% of the time!"
Along with all of that lying propaganda (oh no, a Democrat voted with Democrats GASP!) is a photo of Cruz with an insert of a Black man his team must've been told was Colin Allred, but absolutely is not.

Because that's Manhattan DA Alvin Bragg.
THIS is former NFL linebacker Rep. Colin Allred, who now has all of the campaign fodder he needs for the next 18 months thanks to this "Well, they all look alike to me" take.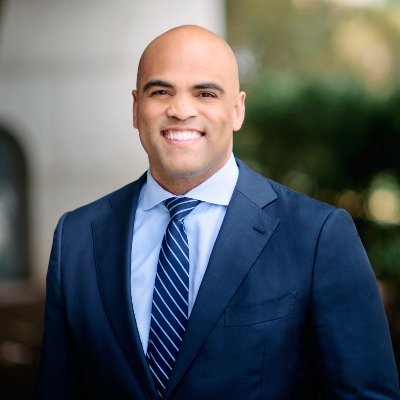 Ted Cruz is never, ever going to live this down, because screenshots are forever. His name is on that thing. He approves everything that goes out.
He can try to smarm-pologize his way out of this kind of blatantly ignorant racism, but we're not going to let that happen, Turd Cruz.
Allred's true official march to the Senate begins with four words and an emoji. Ladies and Gentlemen, please welcome the first Democratic Senator from Texas in thirty years! (We certainly hope!)
Hi 🙋🏽‍♂️, that's not me. https://t.co/h6vPKG7aKT

— Colin Allred (@ColinAllredTX) May 6, 2023
Cause/effect.
Colin Allred, the Texas Democrat seeking to oust Ted Cruz, raises more than $2 million in 36 hours https://t.co/gl5D6HRpRG pic.twitter.com/Z0KigZXWeE

— The Last Word (@TheLastWord) May 6, 2023
Expect Black Twitter to finish roasting whatever's left of Cruz's timeline.
Narrator voice: This is not Colin Allred. pic.twitter.com/lLncxIE7PF

— Melissa Murray (@ProfMMurray on Spoutible 🐳 ) (@ProfMMurray) May 6, 2023
How in the hell did Ted Cruz confuse Alvin Bragg with Colin Allred?! I really believe these rightwing bigots do that shit on purpose to insult black people—with the racist trope that we all look alike & think it's funny. Bragg and Allred look nothing alike. 😡 https://t.co/cqag2QNv3r pic.twitter.com/OVSbKgt0A5

— Kenny BooYah! 🖖🏾 (@KwikWarren) May 6, 2023
*THIS IS AN OPINION COLUMN THAT SOLELY REPRESENTS THE OPINIONS OF TARA DUBLIN. HOORAY FOR THE FREE PRESS!*
Other fabulously hot takes by Tara Dublin can be found on TikTok and Twitter @taradublinrocks.