Sunday night's episode of 60 Minutes featuring Lesley Stahl verbally braiding Marjorie Taylor Greene's hair drew plenty of ire once it was announced, but it failed to draw a major viewing audience.
In fact, it was the second-lowest show for the news magazine's latest season, with a marked 33% drop from the March 26th episode.
If 1/3 of their usual viewers tuned out, Donald Trump might want to rethink his 2024 cell running mate choices.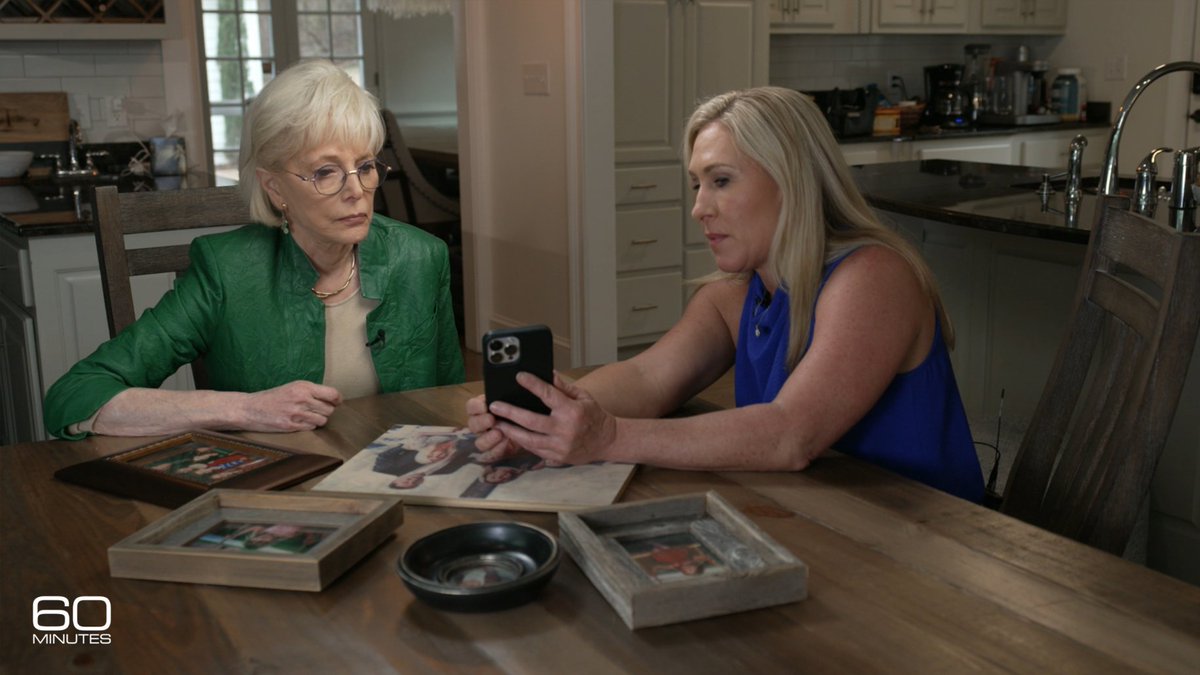 It was painfully obvious that Marjorie was using 60 Minutes to audition for Trump's VP, but her MAGA makeover: she's clearly had more than one facial peel, among other obvious work done, plus hired herself a better makeup artist than Trump's.
While Stahl occasionally tried something that resembled pushback, it was so mild that Marge marched right on over her with zero follow-ups.
Pressed about calling Democrats "pedophiles," Greene–the mother of two teenage girls who went on a tour with credibly accused sex-trafficking rapist Matt Gaetz and hired another alleged pedophile to be an intern in her Congressional office–got nothing more than a "Wow" from Stahl after spewing some word salad about Democrats "sexualizing" children.
Big congrats to every moron who was like, "No, actually, it's good for 60 Minutes to interview Greene. Lesley Stahl will hold her accountable!"

Abject idiots. pic.twitter.com/v6cwXCobyg

— Parker Molloy (@ParkerMolloy) April 3, 2023
Not exactly crack journalism there, Lesley.
The piece also showed Greene walking around her Georgia hometown where she was first radicalized and recruited, with footage of her hugging a lot of the dumb white people who voted for her.
That's how they normalized Marjorie Manson instead of asking her why she was at a White House January 6th plotting meeting before she was even sworn into office and then asked for a pardon just days later, which is what I've been doing since I learned about it.
Marjorie Taylor Greene was at a WH Jan 6th plotting meeting before she was sworn into Congress

After she made this, she planted some bombs. Same walk, same shoes

Hooray for free speech which lets me say what we all know @repmtg #MarjorieNaziGreene pic.twitter.com/P7vuqvePcl

— Tara Dublin ((isn't paying for this)) (@taradublinrocks) December 4, 2022
Marjorie will keep going on her Stepford Sedition tour until somebody (Jack Smith, hopefully) stops her.
And she'll also NEVER respond to me, but I'm sure she'll keep "challenging" AOC to "debate" her.
An email sent to Marjorie's Comms Director, Nick Dyer (who's gone after me before, just like Ted Cruz's cracked staffers) was still unanswered at press time, so here are the questions I'd ask Marjorie if she was ever actually brave enough to face me.
The January 6th White House question
The "why do you hang out with pedos if you're so worried about pedos" question, with the bonus follow-up of "Did you ever leave either of your teenage daughters alone with either Matt Gaetz or Milo Yiannopoulos?"
What did you do with the $183,000 in government PPP loans you got?
Why did you bully your 2020 opponent so badly that he not only dropped out of the race, but also moved his family out of Georgia entirely?
What would it take for you to sell out Trump to save yourself? Because Trump was never going to reward you for any loyalty in the first place.
You know she'd be up and out of there before I finished my first question, which is why it'll never happen.
I'll just be over here knowing all of the truths while awaiting her perp walk once Trump throws Ratings Poison Greene under the MAGA bus.
Leslie Stahl's interview isn't a one-off atrocity. It's just one symptom of the media turning a blind eye to fascism.

In just the last two weeks alone, the mainstream media have refused to recognize the threat posed by the Republican party and its de facto leader, Donald Trump.… pic.twitter.com/53ffpRjzjK

— Mary L Trump (@MaryLTrump) April 3, 2023
Greene uses her prestigious national media 60 Minutes platform to double down on her crazy and dangerous assertion that Democrats are "pedophiles" and, in response, Stahl can only say "wow" and can't you say that "without name calling". 🤦🏽‍♂️😡 pic.twitter.com/HbvjE3ZhGK

— Mehdi Hasan (@mehdirhasan) April 3, 2023