Donald Trump's remaining MAGA supporters in Congress are sweating through their red hats over the impending indictments which are said to be forthcoming any day now from the office of Manhattan District Attorney Alvin Bragg.
House Republicans dashed off a desperate letter to Manhattan District Attorney Alvin Bragg's office, demanding details regarding any plans to arrest Trump for his election fraud campaign crime of paying Stormy Daniels $130,000 in hush money to stay quiet in 2016.
The same Trumpocrites who looked the other way every time Trump rolled out another example of "locker room talk" back in the day are now trying to control a state investigation that lands exactly nowhere in their jurisdiction.
Just don't lean in too closely while reading this hot garbage, the stink of it might just make your eyes water right through your screen.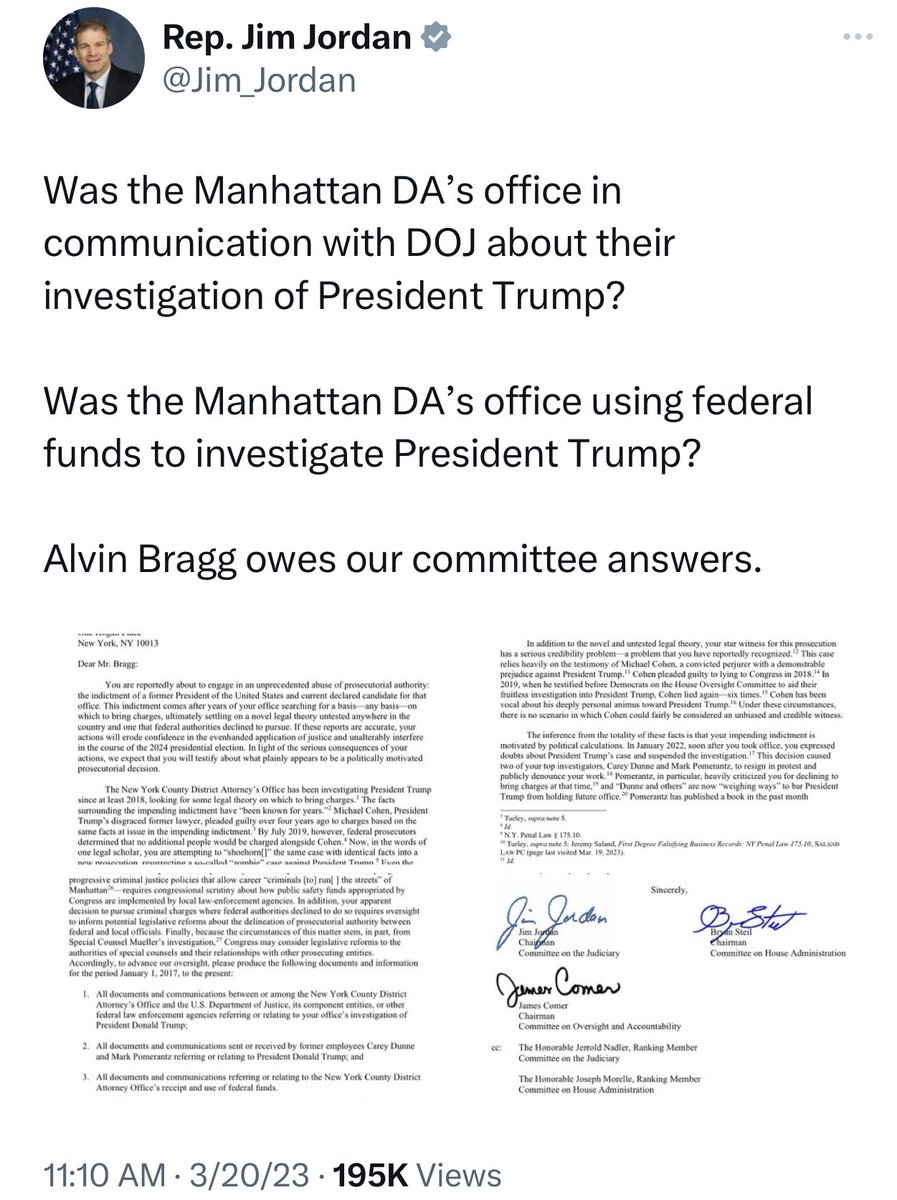 Alvin Bragg doesn't owe any of you squat, Gym Jordan.
Don't mistake the GOP's "concern" for Trump as anything other than a collectively self-protective dedicated effort to keep him from testifying so he can't drag them all down with him.
A court source told news outlets that Trump could be indicted this week, with TFG falsely predicting it would happen Tuesday just to wind up his base.
Even as steel barricades have been constructed in front of his office, Bragg is showing zero fear as he essentially told Jordan, Rep. James "Not A" Comer (R-TN), and the rest of Trump's weak mafia to go pound salt.
"We will not be intimidated by attempts to undermine the justice process," a spokesperson for Bragg told the press in the first public response from the D.A.'s office to the inquiries linked to the Trump investigation. "Many false claims have been lobbed out, so let's set the record straight. New York remains one of the safest big cities in the US."
Sure, try to distract from your criminal's criming by talking about other crimes, that's on brand.
It's really not going to turn out well for Trump and his minions.
Wednesday bodes to be the big day, so hopefully, the three MAGAts camped out in front of Trump Tower have enough juice boxes to get them through it.
Dear @Jim_Jordan: Local prosecutors, including DA Bragg, owe you nothing. In fact, it is illegal for you and @JudiciaryGOP to interfere in an ongoing criminal investigation, or a criminal trial (if there is one). https://t.co/1SOSHf4q7E

— Ted Lieu (@tedlieu) March 20, 2023
need some cheering up? yesterday, Jim Jordan angrily demanded documents from Alvin Bragg and this morning, Alvin Bragg told Jim Jordan to fuck off

— Jeff Tiedrich (@itsJeffTiedrich) March 21, 2023
Nothing says obstruction of justice like Kevin McCarthy & Jim Jordan threatening to investigate Alvin Bragg's investigation of Trump. pic.twitter.com/b9BTnrvNiq

— anyone_want_chips (@anyonewantchips) March 20, 2023
Follow Tara Dublin on Twitter @taradublinrocks.
Editor's note: This is an opinion column that solely reflects the opinions of the author.