In the somber days that followed the January 6th attack on the Capitol, several Congressional Republicans — including now-House Speaker Kevin McCarthy — openly blamed Donald Trump for inciting his MAGA crowd of rioters to violently prevent Joe Biden's certification as the 46th President of the United States.
But soon enough, the narrative shifted and they were all rewriting the history of that horrific day which had been witnessed live by millions.
Now the people who tried to end American democracy call themselves "J6 patriots" in their attempts to rebrand themselves and boost their careers.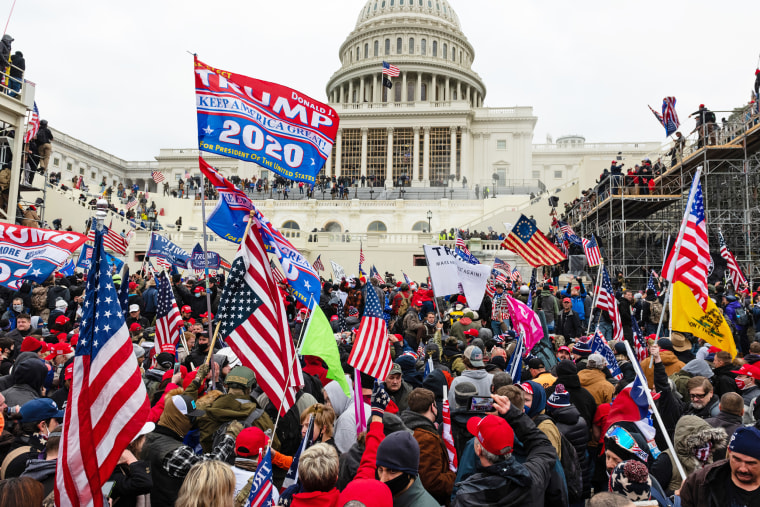 The apologies in their sworn testimonies during their trials immediately were replaced by MAGA bravado once they were free to speak publicly again.
There has been no responsibility taken by any individuals, just constant blame-shifting for their behavior on January 6th.
"The President told me to/invited me here" became the "I was just following orders" of the Capitol insurrection.
After all, all Trump cares about is saving his bloated orange face, so why wouldn't they parrot that weakness, too?
It's not really a surprise that many of the January 6th rioters who have been arrested and tried for their roles in the riot simply followed the narrative from Daddy Donald, because that's what MAGA sheeple do.
The first January 6th defendant to get her punishment, Anna Morgan-Lloyd, told a federal judge that she was ashamed of the "savage display of violence" at the Capitol before he sentenced her to probation.
Shortly after, however, Morgan-Lloyd was on Fox News telling Laura Ingraham that "people were very polite" during the riot and that she saw "relaxed" police officers chatting with rioters.
OK, Trumper.
Another "J6 patriot," West Virginia lawmaker Derrick Evans, plead guilty to a felony charge for storming the Capitol and expressed remorse in court for "letting down his family and his community," saying that he made a "crucial mistake" by "getting caught up" by the violent crowd.
But less than a year later, Evans is now portraying himself as "a victim of a politically motivated prosecution" as he makes a 2024 bid to serve in the same building he vandalized.
Evans is also now calling the Justice Department's January 6th prosecutions a "miscarriage of justice" and describes himself on Twitter as a "J6 Patriot."
Who thinks @DerrickEvans_WV should be in prison for his role in 1/6 pic.twitter.com/F2UaybA429

— Kelly D (@KellDA) January 30, 2023
They can call themselves whatever they want, but they'll never be anything but Trump traitors to the rest of the world.
Political prisoner? You pled guilty and admitted the charges against you were true.
Also, I'm sure your continued false rhetoric are a violation of your plea agreement.

I see you've learned nothing. pic.twitter.com/kRlSuwCwB6

— Deep State-Dark Ginger aka❤Red❤ (@VehementRedhead) January 25, 2023
Follow Tara Dublin on Twitter @taradublinrocks.
Editor's note: This is an opinion column that solely reflects the opinions of the author.