Ultra-"Florida Man" Ron DeSantis lives in a house full of closets, one of which contains his fainting couch.
It's the only way to explain his extreme overreaction to the Orlando Philharmonic Plaza Foundation's presentation of "A Drag Show Christmas" which was *CLUTCH THOSE PEARLS* open to people of all ages.
While drag can be very sexy, drag queens also know their audiences.
If they're doing a family-friendly event, they'll keep it vocally clean for the kids while making sly references for the parents, a la "Looney Tunes" or "SpongeBob."
Anyone who can make kids' entertainment palatable for adults should be rewarded, not canceled.
But Gov. DeathSantis actually filed a complaint that sounds like something right out of the Dark Ages: Miz Ron-duh claimed the foundation used "Christmas-themed promotional materials" that "did not give advance notice" of the "sexually explicit nature" of the show's contents.
You'd think the fully repressed Governor of Florida would have higher priorities than worrying about a holiday drag show, but he'd clearly rather MAGA micro-manage other peoples' bodies than face the reality of his own.
Miz Ron-duh previously filed a complaint against a Miami restaurant in July, alleging that it violated a "public decency law" by "allowing children to attend a drag show" and accused them of trying to "sexualize" youth.
Look how pathetic this is. Yeah, how dare they interfere with the GOP's grooming?
Ron DeSantis has filed a complaint against the Orlando Philharmonic and stripped its liquor license for hosting "A Drag Queen Christmas." They claim it was a felony violation. They are weaponizing the state to eliminate queer existence. https://t.co/tyBgMWe6YW pic.twitter.com/19q773y5M1

— Alejandra Caraballo (@Esqueer_) February 3, 2023
Miz Ron-duh must have some lingering questions regarding his basic biology.
You can't walk around in boots like these unless you're doing some serious experimenting with your new lewk.
WERK, RON!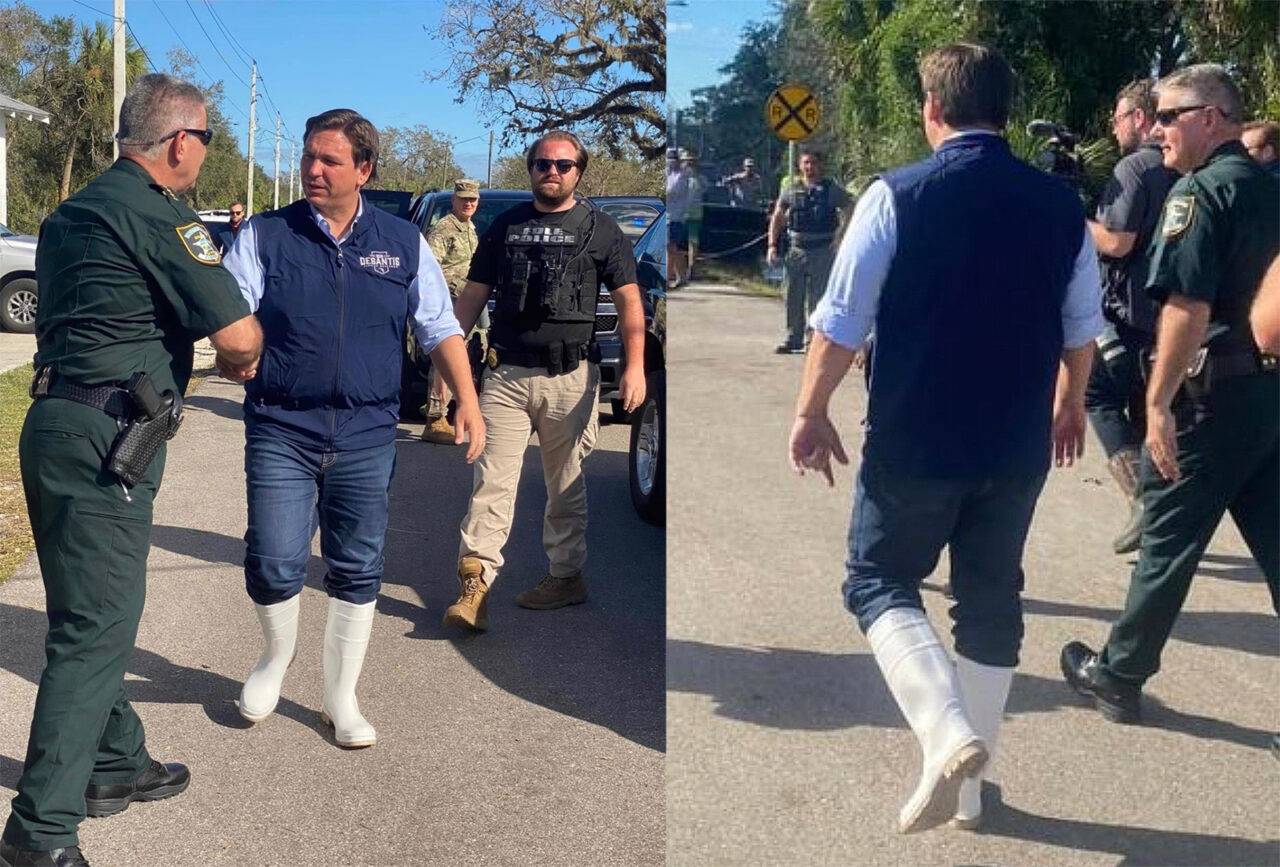 Twitter once again tried to take this toxic Trumper to task, but it's not like any of these mediocre MAGAts ever listen.
#NeverForget that Proud Boys pinup Trump Afterbirth, Governor White Power DeSantis was quicker to condemn: drag queens, signs of LGBTQ acceptance or history in classrooms, Black history, math textbooks & people criticizing gas stoves than he has #NazisInFlorida. pic.twitter.com/V3sPtTLVTK

— Lesley Abravanel 🪩 (@lesleyabravanel) February 3, 2023
Will Ron DeSantis and the GOP retroactively arrest Milton Berle for dressing in drag? My conservative Catholic grandma LOVED Milton. pic.twitter.com/7j7rPLEe2Z

— Kimberley Johnson 🇺🇦 (@AuthorKimberley) January 25, 2023
Ron DeSantis' formal action to revoke Plaza Live's liquor license for hosting Drag Queen Christmas is an extreme abuse of regulatory power that can have devastating economic consequences for this local business.

Why can't parents decide what's appropriate for their own kids? pic.twitter.com/rQQQzaruFo

— Carlos Guillermo Smith (@CarlosGSmith) February 4, 2023
Tara Dublin is a woefully underappreciated and unrepresented writer currently shopping a super cool novel that has nothing to do with politics while also fighting fascism on the daily.
Follow her on Twitter @taradublinrocks.
Editor's note: This is an opinion column that solely reflects the opinions of the author.