Hey, all parents and anyone else with basic human common sense reading this, which would you rather have pointed at your 8-year-old: glittery well-manicured jazz hands or a semi-automatic weapon?
This question exists because, in 2023, there are some seriously (and literally) triggered cowards traumatizing kids who have been either *gasp* READ TO or *gaspier gasp* ENTERTAINED BY drag queens.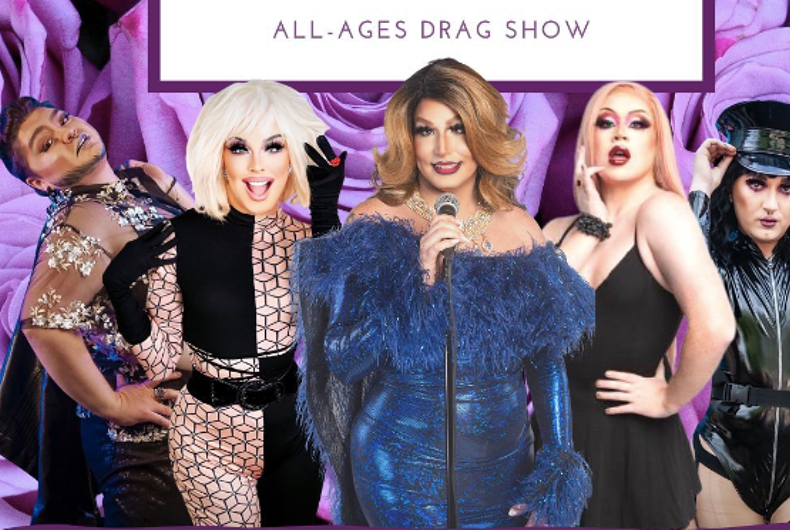 Five pathetic Proud Boys in Utah recently threatened children outside of a drag performance where some local enterTAINTers (I see you and I love you, Mother RuPaul) lip-synched to some Disney favorites.
The show, "Bes-Teas," is held at a local wine and tea shop and sells out regularly, and according to its host, TARA LIPSYNCKI (I am deceased and instantly resurrected by this name), it's "family-friendly, contains neither swearing nor sexual content, and in no way resembles a nightclub show."
One of the super brave masked protesters probably leaked a tiny bit of pee while trying to justify terrified children with guns.
"We're not here to impede on people's way of life," the anonymous Proud Boys member told The Salt Lake Tribune, adding that his organization only protested because children attended.

"You would never bring a kid to a strip club. Why would this be any different? Sexualized women dancing in front of boys — this is a man dressed as a woman dancing sexually in front of children."
Tell me you've never known the touch of a human woman you didn't have to inflate first without telling me you've never known the touch of a human woman you didn't have to inflate first, tiny incel.
"When we start to blur the lines between good and bad, men and women, it starts to become an issue because then laws start to get passed," he whined,…"It just gets real messy."
You screamed at children while holding guns because they were scared of drag queens leading Disney sing-a-longs, so I think we know who's being messy here, Sis.
Guess who has the spilled tea? Listen to Miz Lipsyncki serve it up hot, Henny:
Tara Lipsyncki, the Utah drag queen who produces the event, said the children inside didn't look nervous. One mother explained that the group outside had chosen hate while those inside were choosing love.https://t.co/LGgbtPHFS9 pic.twitter.com/ISOqu5MKd2

— The Salt Lake Tribune (@sltrib) January 22, 2023
[Snaps to the LGBTQ+ community in Salt Lake City for managing to exist at all and also thrive in Mormon Ground Zero, btw.]
Maybe the tiny lil' Trumpers were so big mad because they took their name from a Disney song and therefore just can't have anyone getting any extra gay on a show tune written by the same duo who wrote the songs for "The Little Mermaid."
It would probably be really scary for a Proud Boy to start questioning why this is his theme song.
They might wonder why they need to bully someone who can live their truth authentically while slaying a lip-synch of "Under the Sea."
Proud Boys are the weakest and most pathetic. Give me a lip-synch battle over an armed insurrection any day, gurl.
Tara Dublin is a woefully underappreciated and unrepresented writer currently shopping a super cool novel that has nothing to do with politics while also fighting fascism on the daily.
Follow her on Twitter @taradublinrocks.
Editor's note: This is an opinion column that solely reflects the opinions of the author.