Ronna "Mitt Romney Is My Uncle No Matter What Last Name I Use" McDaniel was re-elected RNC Chair on Friday despite a history of overseeing staggering Republican election losses and illegal promises to help Donald Trump overturn the results of the 2020 presidential election.
Clearly, a dead potted plant would've been a better choice over Ronna's challengers, Qrazy MyPillow CEO Mike Lindell and MAGA harpy Harmeet Dhillon, but that doesn't mean they're going away.
In fact, they're still trying to run the RNC by making "or else" kinds of demands, which are usually only effective for 2nd-grade bullies.
*cough*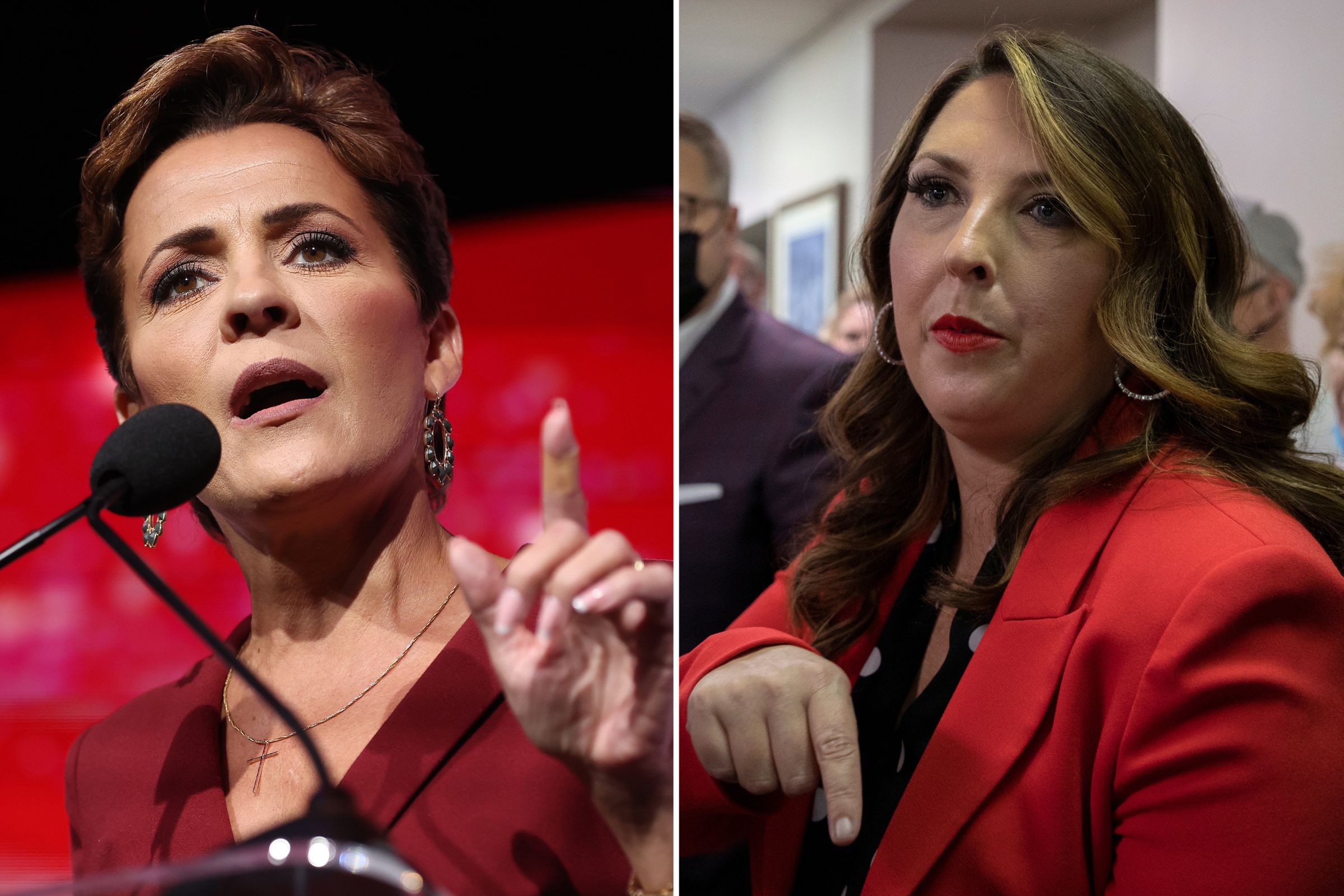 MAGA Mean Girl Kari "KKKari" Lake has apparently been filtered into submission by probable Trump VP Rep. Marjorie Taylor Greene (R-GA via an extended umbilical cord to Kevin McCarthy) and is therefore back to her old election-denying antics to get attention.
KKKari lost the Arizona Governor's race by a not-big-enough margin to make me feel comfortable, but what matters here is that she continues to deny that both she and Donald Trump lost their elections, so that's not really a person who should have Ronna Romney's ear.
Lake, who's been threatening to run for Kyrsten Sinema's Senate seat in 2024 (lol) now wants Ronna Romney to create an RNC "Election Crimes Commission" and place Mike Lindell in charge of it.
There she was sitting next to Mr. "I Never Sleep Because MyPillow Sucks" on Steve "Gin Blossom" Bannon's show on "LindellTV" in an impressive use of both redundancy and multiple filters as Lake was pictured betwixt the twin results of radioactive amphibians mating with humans.
If you can make sense of any of this, you're way ahead of the rest of us, including the people in it. At least none of them needs a home theater system with natural projection like this.
Kari Lake wants Ronna McDaniel to create an RNC "Election Crimes Commission" and place Mike Lindell in charge of it. pic.twitter.com/SqZ4nOkO9t

— PatriotTakes 🇺🇸 (@patriottakes) January 28, 2023
The idiots are in charge of the asylum, y'all.
Why isn't #Bannon in prison where he belongs?

I'm so tired of #Lake, #Trump, #Lindell—all of their God-damn lies and propaganda

— Sue (@ADWOFF) January 28, 2023
Follow Tara Dublin on Twitter @taradublinrocks.
Editor's note: This is an opinion column that solely reflects the opinions of the author.