You can say a lot of things about Rep. Lauren Boebert (Q-CO via Ted Cruz's Koch buddies' Vegas hotel suite), and one of her constituents certainly did in a letter published by her local paper, The Durango Herald.
Written by a woman named Carol Cure (which totally sounds like the name of an alter ego for a badass female superhero) ON CHRISTMAS DAY, even, this read is a true read to filth.
Cure excoriates Boebert and her new bestie, Matt "Captain Venmo" Gaetz, whom she snatched up after he stopped hanging out with Marjorie Taylor No-Longer-Greene's teenage daughters, for being disrespectful to Ukrainian President Volodymyr Zelensky during his address to Congress last week.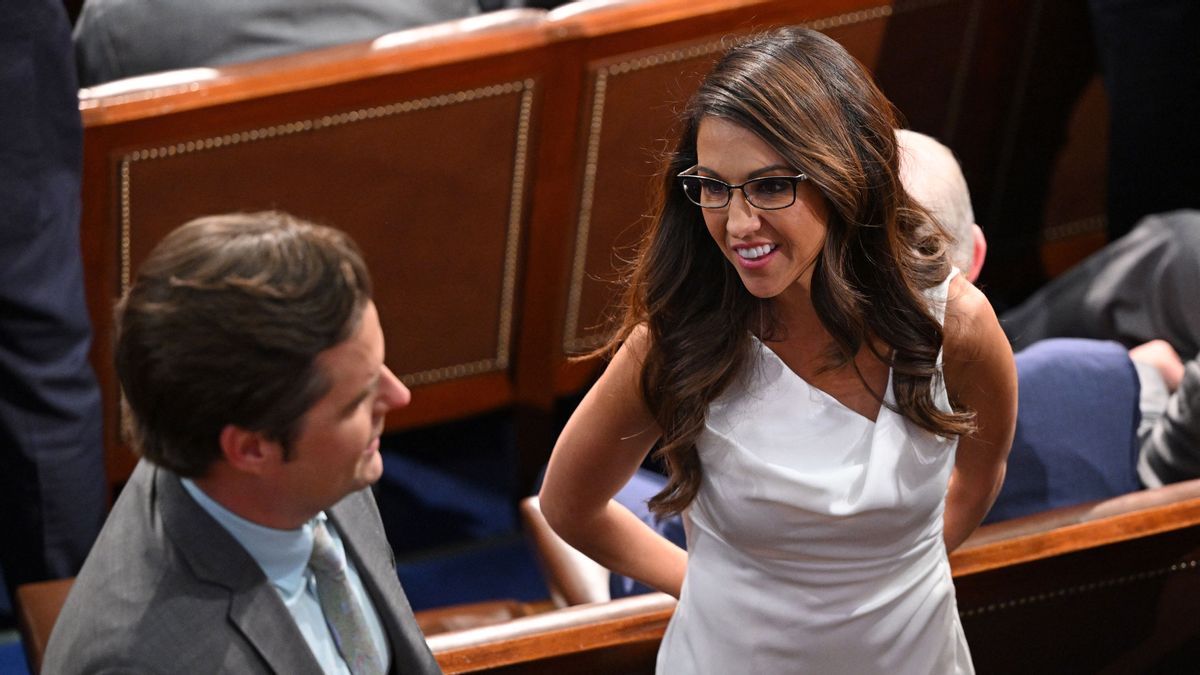 You may recall how Matty Fivehead and Bobo McGunho refused to go through security before Zelensky's speech, which should've gotten them hauled off by some sort of law enforcement, and then sat on their phones tweeting a whole lot of bullshittery in between rounds of that hot new game, Words With Friends With Benefits.
Ms. Cure writes that by refusing to stand or applaud for Zelensky during his speech to Congress, Boebert "has once again embarrassed her 3rd Congressional District constituents and the entire country."
PREACH, CAROL!
"Boebert and Gaetz not only refused to acknowledge the heroism of Zelensky and his country's 300-day fight to defend their freedom from Russian aggression," Ms. Cure writes. "They are among a small group of far-right House members opposed to any future aid to Ukraine and are demanding a 'full investigation' into the aid already sent to help the war-torn country survive."
See how simple it is to just tell the truth about the worst people?
It's an act of pure shero-ism while the MAGA garbage fire continues to keep its pilot light going.
Liberal Twitter certainly enjoys a proper MAGA roast, so the reactions from those not shadowbanned by Big Brother Musk had some hot takes on Ms. Cure and her targets.
I'm still incredulous that Lauren Boebert is proud of her behavior during President Zelensky's address.

You can disagree with what aid we're sending & how much, but this man and his people are under attack and fighting for their lives. That deserves your respect, Rep Boebert. pic.twitter.com/UsbnHHsYl2

— Adam Frisch for CD-3 (@AdamForColorado) December 27, 2022
Lauren Boebert won by .2 percent

— Molly Jong-Fast (@MollyJongFast) December 26, 2022
Lauren Boebert dropped out of highschool so she could focus on spreading chlamydia.

— Liam Nissan™ (@theliamnissan) December 27, 2022
Supertramp is trending, what did Lauren Boebert do this time?

— Mayo 🌻 (@MayoIsSpicyy) December 27, 2022
Read Carol Cure's letter in full here
Follow Tara Dublin on Twitter @taradublinrocks.
Editor's note: This is an opinion column that solely reflects the opinions of the author.