I don't understand anyone supporting the Republican Party, but extra especially not women or people of color.
The GOP doesn't see anyone who isn't a white Christian male as human, which makes it easy for them to take away all of the things that make life good.
So what do we do when a woman of color goes full MAGA and threatens sitting members of Congress?
WE CALL HER OUT, that's what we do.
Meet Shukri Abdirahman, a Muslim woman who ran for the House to represent Minnesota's 5th Congressional District, but didn't appear on the ballot for the Republican primary on August 9, 2022, according to Ballotpedia.
She holds no office and her tweets are the stuff of unhinged nightmare fuel.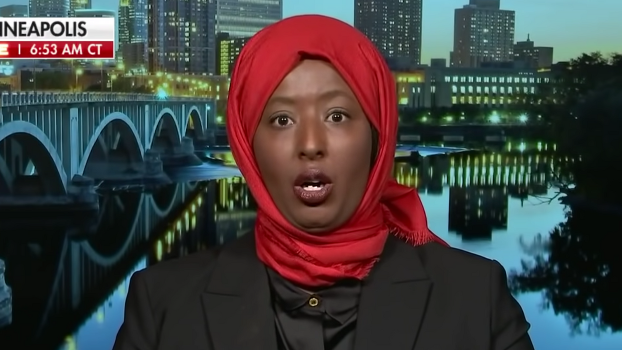 Shukri also loves Elon Musk and responded to Matt Taibbi's giant nothing-burger that is the "Twitter Files" by calling for "bullets not ballots" when it comes to fighting "tyranny".
We can have chaos or we can have community. We can have violence or we can have voting. Another GOP congressional candidate is choosing chaos and violence. That's who they are. pic.twitter.com/zjNt6W9UB3

— Rep. Eric Swalwell (@RepSwalwell) December 4, 2022
Instead of explaining herself, because she's Qrazy, Shukri's just blocking everyone who comes for her, including yours truly.
Has she blocked you on her personal account? Musk reinstated her account after she had been suspended for violating rules against hate speech and/or disinformation. Also, she lost her bid for Congress. Why does she have two Twitter accounts? pic.twitter.com/3tpGo8b2H8

— Nancy Levine #BoycottTesla (@nancylevine) December 4, 2022
And how do we know Shukri's Qrazy?
Because in the face of criticism over her calls for violence, she called for more violence.
Fortunately, someone who still works under Elon Musk has something that resembles a conscience, because Twitter removed the bullets tweet.
Both of her accounts are still active, however, despite her other violent tweets.
https://twitter.com/WolfieSmiffed/status/1599376615380848648?s=20&t=koNd3qgSYHE5VH64GL_4kg
Twitter users were still sharing her tweets and tagging the FBI on Sunday because the FBI really should have a talk with her.
Preferably after she's already in federal custody.
I'm a little surprised how much attention one tweet from
Shukri Abdirahman has been getting when she's been tweeting equally vile stuff for quite a while. Take this, for example, which quite directly parallels the more recent tweet. (cc: @deenafaywinter) pic.twitter.com/HzKHQocVDb

— Max Hailperin (@MaxHailperin) December 4, 2022
does she realize that most americans who are for armed insurrection against the current administration will shoot people who look like her, wear hijabs, and have names like hers, before anyone else? … Shukri Abdirahman, the somali refugee, needs a reality check.

— Ung Choi (@ucchoi01) December 4, 2022
Shukri Abdirahman should immediately be:

-Banned on Twitter.
-Interviewed by the FBI.
-Lose custody of her children.
-Be barred from any public office.
-Be court-martialed by the Army.

I am so fucking sick and tired of these mentally ill, Republican domestic terrorists!

— RocknRollDem (@Soxfan311) December 4, 2022
C'mon, Elon! Remove this MAGA maniac from Twitter!
Tara Dublin is a woefully underappreciated and unrepresented writer currently shopping a super cool novel that has nothing to do with politics while also fighting fascism on the daily.
Follow her on Twitter @taradublinrocks.
Editor's note: This is an opinion column that solely reflects the opinions of the author.