For some reason, local school board meetings are filled with endless unintentional comedic gold. There's something about giving a microphone to everyday Americans who are clearly not used to public speaking that we as an audience find endlessly entertaining. Over the last few years, more and more MAGA types have begun emulating their Dear Leader by throwing toddler-level tantrums over their kids' education. It's the most amazing display of irony and lack of self-awareness, and if you showed me a clip of one of those screaming dads and told me it was an outtake from Parks and Recreation, I'd handily believe it.
The fact that these meetings have become increasingly political and unhinged hasn't been lost on the comedy community. Smart people dunking on dumb people might seem like low-hanging fruit (and does it hang any lower than the Orange Losers?) but there are those who turn it all into high art. Jordan Klepper of The Daily Show comes to mind immediately, as well as The Good Liars. And then there's Walter Masterson.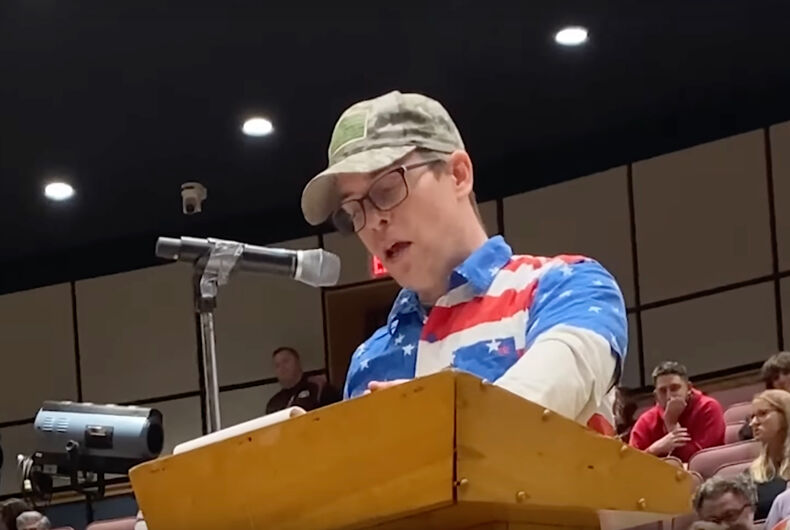 LGBTQNation reports that Masterson, who's known for punking the worst people, attended a meeting of the Connetquot School District board on Tuesday night.
During the public comment period, Masterson, dressed in a stars-and-stripes shirt, got up and delivered a speech satirizing conservative talking points on everything from inclusive pronouns to gun control and school choice. The New York-based comedian mined the right's anti-LGBTQ rhetoric for laughs.
"As a patriot, I love freedom of speech," Masterson said. "Except when it comes to pride flags in schools, teaching history. There's a whole list of books I want to ban from the school library. I want to ban kneeling in football games."

"The point is we need to protect our children," he continued. "Which is why we need more security in our schools. We need cops patrolling the hallway. We should also hire cops as teachers. And the students, they should also be cops, like in 21 Jump Street."
If you're not angry enough then watch the Connetquot livestream where the MAGA moms and dads all spoke.
The people who spoke after me were so insane that people stared at me like "is she with you?"
Also this couple sat in front of me. pic.twitter.com/rFb2YK00yr

— Walter Masterson (@waltermasterson) October 13, 2022
Masterson also owned Matt Gaetz, so he has my eternal respect.
Just a reminder that I personally told Matt Gaetz he WAS NOT a pedophile and he disagreed. pic.twitter.com/qoPx9gSmoR

— Walter Masterson (@waltermasterson) September 18, 2022
I trolled the school board meeting at Connetquot after they had a teacher remove the Progress Pride flag. pic.twitter.com/2gleJ73ThX

— Walter Masterson (@waltermasterson) October 13, 2022
Tara Dublin is a woefully underappreciated and unrepresented writer currently shopping a super cool novel that has nothing to do with politics while also fighting fascism on the daily.
Follow her on Twitter @taradublinrocks.