The National Rifle Association is so close to Russia that they sent an official delegation of their top members to meet with Putin's top ranking government ministers and military gun manufacturers.
This week, the NRA's top death merchant, CEO Wayne LaPierre, along with the organization's outside counsel, both shamelessly lied to The New York Times in a clumsy effort to distance the gun rights sales organization's ties to Russia.
Afterward, a tipster leaked the NRA's receipts, which completely disproves their feeble attempt to distance the single organization most responsible for an upswing in American mass murders from Putin, who in turn attacked America's 2016 election to help their mutually favored candidate: Trump. ABC News reports:
"In one email, an NRA employee appears to help Butina make travel arrangements for a delegation that included former NRA president David Keene, future NRA president Pete Brownell, NRA fundraiser Joe Gregory, NRA benefactor Dr. Arnold Goldschlager and his daughter Hilary, Outdoor Channel CEO Jim Liberatore, and prominent NRA advocate and Trump campaign surrogate David Clarke, then the sheriff of Milwaukee County."

"Other emails suggest that the NRA would pay for travel expenses for two delegation members and provide formal NRA "gifts" for the delegation to present to their Russian hosts."
It turns out that the NRA's big Moscow adventure was also extensively documented on Facebook.
Photos and social media posts make it clear that the group's former president David Keene and ex-Milwaukee Sheriff David A. Clarke the African-American anti-Black Lives Matter politician arrived as representatives of the group, according to ABC:
"The delegation of the world's largest social organization for supporters of weapons, the National Rifle Association USA (The NRA) made an official visit to Moscow and met with supporters of the movement, Right to Arms," the posts reads when translated from Russian. "This is the first time this has happened in Russia's history."
Story continues below image: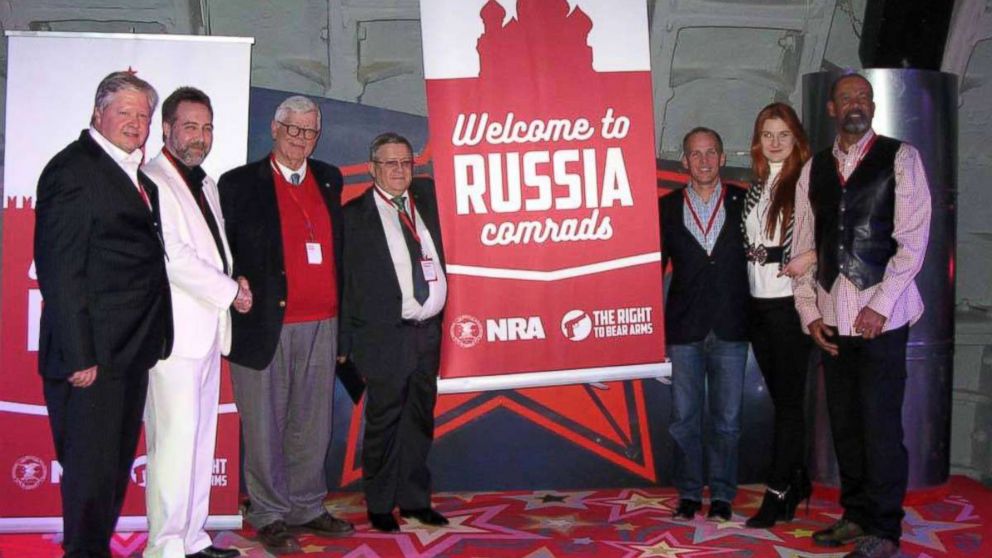 Russian spy Mariia Butina pled guilty in December to facilitating the trip and years worth of engagement with the NRA to ingratiate herself with the Republican Party. While there, the NRA's delegation met with Russian Foreign Minister Sergey Lavrov and the sanctioned Deputy Prime Minister for Russia's Defense Industry Dmitiri Rogozin.
Rogozin made headlines earlier this year when Trump's new head of NASA mistakenly invited him to America, even though he's still sanctioned, then had to rescind the invite.
Even without the NRA's ties to Moscow, they'd be facing a serious and potentially criminal investigation of their electioneering efforts on behalf of Donald Trump, whom they supported with $30 million.
That's because Mother Jones caught the Trump Campaign coordinating its expenditures illegally with the NRA by hiring the same company to purchase both of their television ad campaigns in 2016. Outside expenditure groups like the NRA aren't allowed to coordinate their spending with a campaign.
Public support for the NRA has waned since the 2016 election in the wake of their Russian ties being exposed and their perceived role in enabling mass murders like the Las Vegas Shooting and the Parkland school massacre.
Luckily, that has resulted in an NRA which is struggling to keep its digital TV station on the air and can't even afford coffee for its office workers after admitting that it might go out of business for good.
No wonder its murder promoting CEO Wayne LaPierre and others are deathly afraid that the complete details of their subjugation by Russia could be the coup de grace for their gun rights extremist group.