The white nationalist publishing company and editor who rose to fame as Trump's campaign manager just got caught running an illegal operation aimed at suppressing the black vote, and it appears to have been effective.
An exclusive report from Bloomberg exposed Trump campaign manager Steve Bannon's connection to an African-American Bernie Sanders supporter that dates back to his time as the editor of Breitbart News from one of his correspondents that recruited the activist. During Trump's 2016 presidential campaign, he helped Sanders activist Bruce Carter run an undeclared wing of the campaign solely aimed at telling black voters to stay home, which was called Trump for Urban Communities.
Trump outperformed expectations in places that Carter campaigned, including a 35,000 vote margin improvement in Philadelphia alone, which made up half of his margin of victory in Pennsylvania. Bloomberg reports:
While it's impossible to precisely measure Carter's effectiveness, Trump performed particularly well in the areas Carter targeted, says Dustin Stockton, the Breitbart reporter who recruited him.

"Trump vastly outperformed the projection models in the 12 areas Bruce was targeting" in Pennsylvania, North Carolina and Florida, Stockton says. "I never like telling people not to vote. But from a tactical and strategic position, we looked at it: If you could get them to vote for Trump, that was a plus two." It was a "plus one," he says, if they simply didn't vote at all.
Not only is Carter's role in the Trump campaign onerous and ugly, but his coordination with both Breitbart and Trump campaign manager Steve Bannon could land both the news outlet and the former White House advisor in legal hot water.
An email from Steve Bannon to Trump for Urban Communities activist Bruce Carter. Story continues below: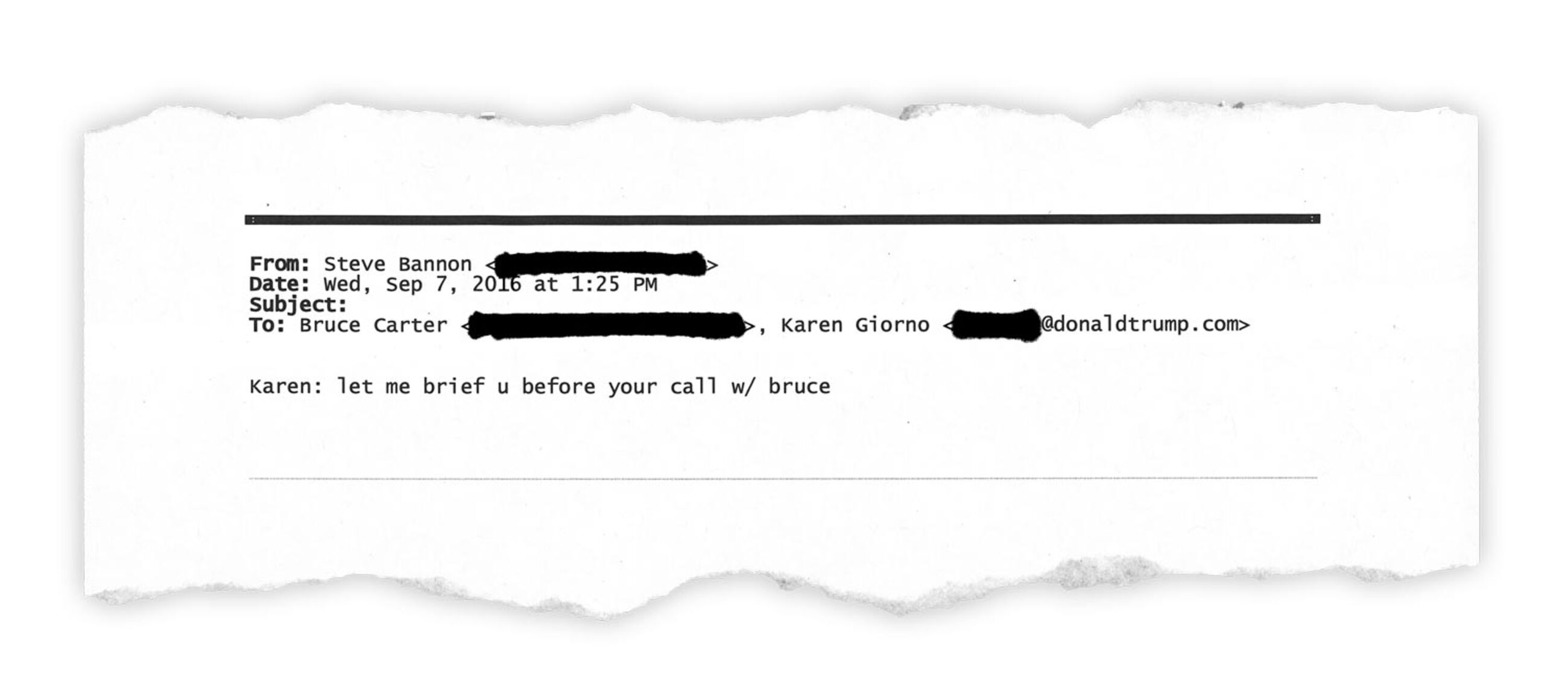 The Trump Campaign should've listed Carter's activities and regulated the donations he accepted, but as Bloomberg reports, they did no such thing. It seems apparent that there were illegally large donations made to further the voter suppression effort:
Carter says, he believed he was working for the campaign so he wouldn't have been responsible for reporting the spending.

Another potential issue is whether the unusual role played by the Breitbart reporter amounted to an in-kind contribution.

"There are some real problems here," says Lawrence Noble, who served as general counsel at the FEC during Republican and Democratic administrations and is now senior director and general counsel at the Campaign Legal Center, a nonpartisan advocacy organization. "I would think this is more than enough evidence for the FEC to open an investigation."
Emails from the campaign to Carter explicitly directed his activities.
Story continues below: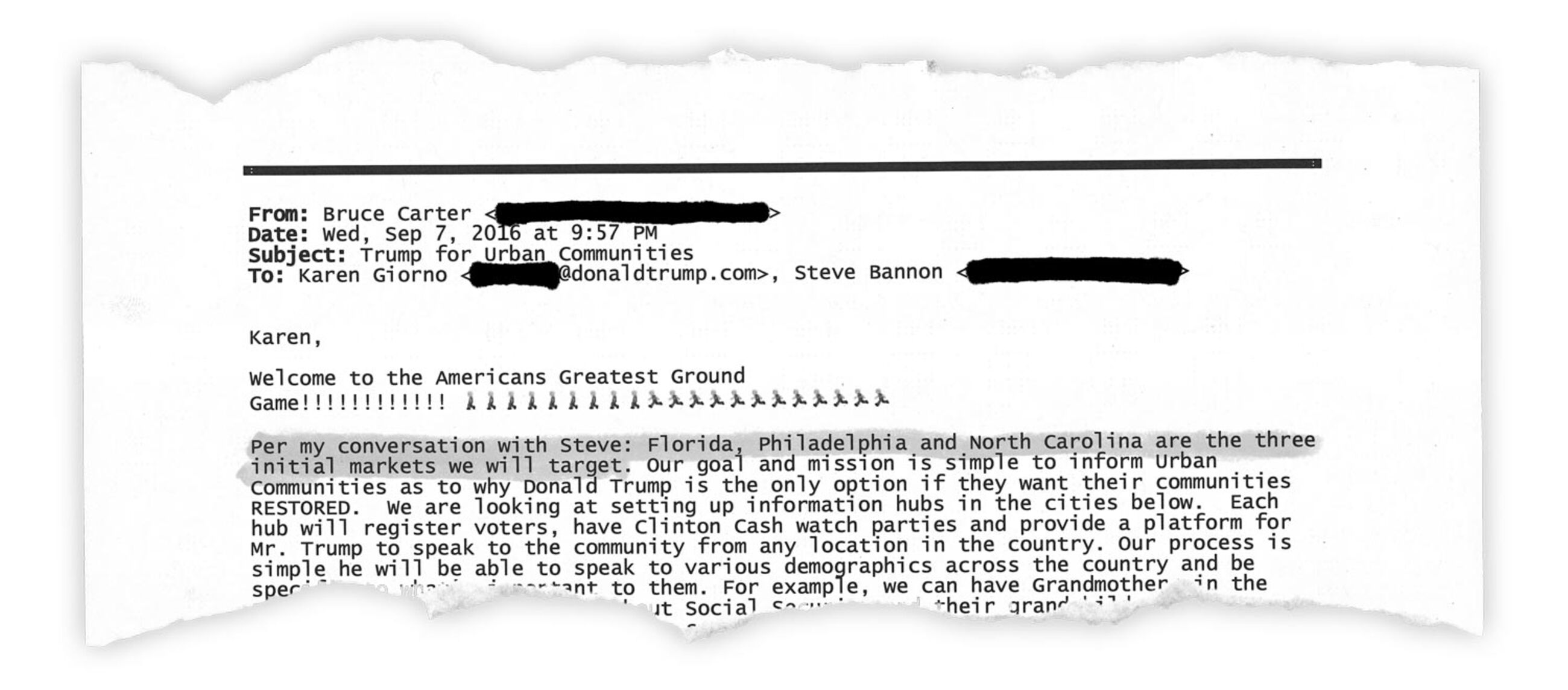 Bruce Carter used the cash he raised as part of Trump's campaign to pay for a series of wrapped vehicles which drove around African-American communities urging voters to stay home on election day.
Carter's handlers made a Twitter account for his efforts and based on various clues visible on the account's timeline, they operated it as well.
While they needed him, the Trump campaign rolled out the red carpet for Bruce Carter, introducing him to the now-convicted felon Gen. Flynn, Breitbart owner Rebekah Mercer and Blackwater founder Erik Prince while he stayed at the Trump Vegas Hotel.
Soon after the election, Bannon's people dumped Bruce Carter like a bad habit, blaming a background check which didn't stop them from ruining his interpersonal relationships by turning him into a shill for Donald Trump's racist campaign.
The Trump campaign's use and abuse of well-meaning fools like Bruce Carter, and Breitbart's carefully crafted political propaganda about Hillary Clinton, combined with Russian hack attacks, were successful at influencing the Democratic base with lies.
But the illegal campaign contributions and/or coordination with outside groups that Steve Bannon, the Trump campaign, and Breitbart engaged in should be prosecuted to the fullest extent of the law, as just one of the many felonies that Republicans engaged in to cheat during the 2016 election.