Where in the world is Melania Trump?
Roughly two weeks have passed since First Lady Melania Trump underwent a routine surgery for a benign kidney condition. At the time, Trump tweeted about the procedure:
Heading over to Walter Reed Medical Center to see our great First Lady, Melania. Successful procedure, she is in good spirits. Thank you to all of the well-wishers!

— Donald J. Trump (@realDonaldTrump) May 14, 2018
Trump's initial tweet called her "Melanie" since he never bothers to proofread anything. Someone caught the typo after it was posted, deleted the original and replaced it with the correct spelling of Trump's third wife's name.
Reports of Melania's condition have not changed since Trump's initial tweet. Friends and confidantes have assured reporters who inquire about her well-being that she's feeling great.
That might be true, as there is no evidence to the contrary, but Trump is now so deeply entangled in the deeply woven network of lies he's spun to cover his own illegal affairs that he gaslit the press about his own wife.
According to a Washington Post report, Trump took questions from reporters as he was leaving the White House Friday morning. One reporter asked about Melania's whereabouts, and Trump gave this odd response:
"According to a pool report, President Trump responded by pointing to a window in the White House residence, and said: "She's doing great. She's looking at us right there."
"Reporters turned to look at the spot he indicated, but there was no sign of the first lady."
One lucky photographer even grabbed a photo of the moment the ghost of Melania dissolved into the hallowed halls of the White House: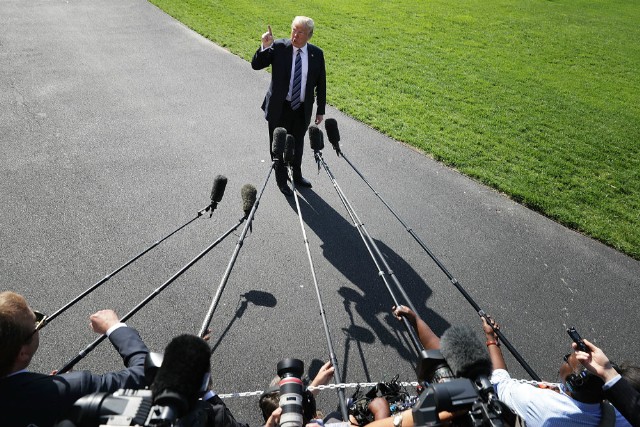 CREDIT: Chip Somodevilla / Getty Images
(Trump made that same expression last summer when he stared into the solar eclipse. Did he think he saw Melania on the sun then, too?)
Jokes about ghosts and body doubles aside, Melania actually has not been seen by civilian eyes since she spent five nights at Walter Reed Medical Center for a procedure medical experts say usually doesn't require nearly as long.
Her surgery and absence also came a few short days after announcing her largely-ridiculed "Be Best" campaign encouraging American youth against abusing social media (and also possibly opioids).
Considering the mockery the world made of an anti-bullying initiative from the wife of the most notorious internet bully ever to login to Twitter, it wouldn't be shocking to find out she's taken a small sabbatical hoping to distance herself from the program.
Probably the most shocking of all is Melania's absence from photo ops. One thing the Trumps (other than Eric) NEVER miss is a chance to get their mug in front of the cameras.
Melania might not be a full-blooded Trump or the first of Trump's wives or the mother to any of Trump's adult children, but still, the former-model shares vanity in common with her step-family. That wasn't enough to get her moving around to meet with South Korean First Lady Kim Jung-sook before Trump canceled the historic summit with North Korea.
No one – including Trump – seems to know when Melania will return to the public eye. White House spokesperson Stephanie Grisham told the Washington Post, "We've had several internal staff meetings in the past week around a variety of topics, including her initiatives." That doesn't mean she is present for the meetings, though.
Until then, keep an eye trained on the windows of the White House for a chance to catch a glimpse of the Phantom of the West Wing.
Don't forget to keep an eye on the bushes where Sean Spicer used to hide out, too.
Oh, and take a peak inside the sinkhole as well.