News reports of a payoff to Trump's convicted former National Security Advisor just led to the revelation of a secret meeting at Trump Tower on December 12th, 2016 between the presidential transition team and Qatar's Foreign Minister, who was accompanied by the manager of the $100 billion Qatar Investments fund.
Trump's personal lawyer and fixer, Michael Cohen was caught on camera escorting the Qatari delegation to the presidential transition offices at Trump Tower.
The clandestine meeting with Trump's transition team happened only five days after Qatar began closing on the purchase of a portion of a massive state-run Russian oil company and just so happened to have been held on the same day that Russian Ambassador Kislyak was snuck into Trump Tower undetected.
C-SPAN's Trump Tower lobby pool video cameras captured the Qatari delegation slipping into an elevator with Trump's attorney Cohen. (Clip 1 below)
Qatari Foreign Minister Mohammed bin Abdulrahman Al Thani has been identified in the C-SPAN videos as the man with the sideburns entering alongside  former ambassador Ahmed Al-Rumaihi.
A publicly announced meeting between General Flynn and Michael Cohen took place later that day.
Former Russian Ambassador Kislyak visited Trump Tower the same day, according to the House Intel Committee's Minority Report.
Qatar Investments Director and foreign ministry director of communications Ahmed Al-Rumaihi boasted of an alleged payoff to General Flynn earlier this year, and his words found their way into a sworn federal court filing just last week after rapper Ice Cube and his partner in the Big 3 Basketball league Jeff Kwatinetz hit him with a billion dollar defamation lawsuit.
The court filing led to a search for corroborating evidence of a payoff to Flynn and ultimately to the C-SPAN video.
A similar secret meeting between Trump and the Crown Prince of the United Arab Emirates, who also did not notify the State Department, that led the Obama Administration's NSA Susan Rice to unmask surveillance of the foreign dignitary.
That meeting at Trump Tower, in turn, led to the discovery of a back channel to Putin via American mercenary boss and Trump backer Erik Prince to RDIF Director Kirill Dmitriev in the Seychelles Islands.
General Flynn was upstairs waiting in Trump Tower on December 12th when a Qatari delegation slipped into the westernmost elevator, led by a restless Al-Rumaihi – who entered the US on a B-1 tourist visa – arrived in the lobby at time marker 7:38 in the video.
This video footage (below) places Flynn and Cohen together during the presidential transition with Qatar's Foreign Minister, and a fund manager transformed the court filing's hearsay about a payoff into strong circumstantial evidence of a relationship between the parties.
The meeting between the Trump Transition and Qatar's Foreign Minister happened only five days after the massive Russian oil privatization deal involving the Qatar Investment Authority and sanctioned, state-run oil company Rosneft.
Former MI6 agent Christopher Steele's infamous dossier – on page 30 – accused the Trump Campaign of being tied to the Russian oil deal when it was released a month later.
A YouTube video on Live Satellite News (Clip 4 below) captured General Flynn, current Energy Secretary Perry and Trump's personal lawyer/fixer/bagman Michael Cohen sharing a moment outside the elevator in Trump Tower before Dr. Al-Rumaihi arrives.
Flynn went upstairs before the meeting with the Qatari group, but both Perry and Cohen departed.
C-SPAN video clearly shows Amhed Al-Rumaihi getting into an elevator (7:42) with his entourage and Trump's personal lawyer Cohen.
Eight minutes later, Energy Secretary Rick Perry – who made an official visit to Qatar while in office last year to inspect their LNG facilities – hurriedly entered the elevator to the Trump transition offices.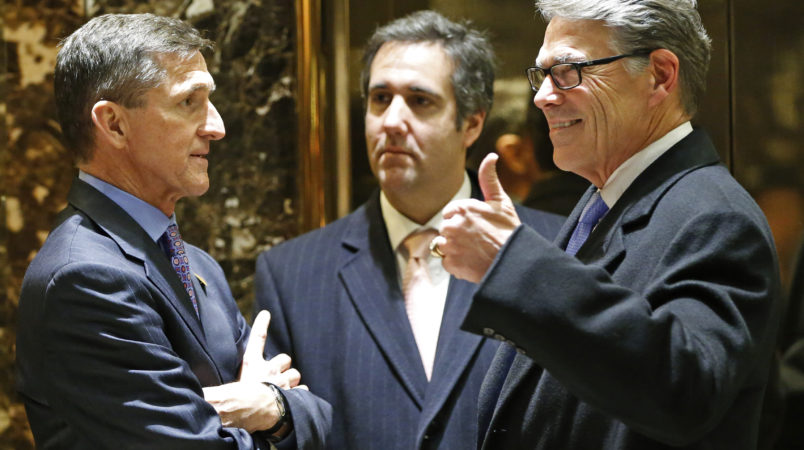 Eighty minutes later, Dr. Al-Rumaihi departed Trump Tower (9:08) in a brisk fashion (Clip 2 below), followed by General Flynn's departure (9:21) thirteen minutes after that (Clip 3 below).
Flynn was accompanied by an unidentified woman and returned to the elevator bank after he finished escorting her to the lobby's Fifth Avenue exit, and after that C-SPAN's video feed ceased.
House Intel Dems released information two months ago indicating that former Russian Ambassador Sergey Kislyak also visited Trump Tower on December 12th, 2016 and met Jared Kushner's 28-year-old deputy, Avi Berkowitz.
"Avraham (Avi) Berkowitz, served as Assistant Director of Data Analytics on the Trump Campaign… The Committee has reason to believe that Mr. Kushner may have dispatched Mr. Berkowitz to meet with Russian Ambassador Kislyak in December 2016."https://t.co/NT9p2PI4ZW

— Rachel Maddow MSNBC (@maddow) March 13, 2018
At the time Dr. Al-Rumaihi arrived during the presidential transition, Qatar Airlines had been a commercial tenant of the Trump Organization inside Trump Tower since 2008.
The Qatari is an asset manager nominally in charge of the airline though his role atop Qatar Investments, which itself is an internal division of the QIA for whom he manages a $100 billion in assets.
The Qatar Investment Authority made a press release announcing $10 billion in American infrastructure investments the day after Al-Rumaihi's visit. Such investments are in line with their business model, and though they've spent a lot of money in Russia lately buying airports, no infrastructure spending or plan has materialized in America so far.
Notably, Donald Trump has a long history of meeting with the prior Qatari Foreign Minister, Sheikh Hamad bin Jassim al-Thani, (known better as "HBJ") to seek business financing.
The Kushner family recently asked HBJ for financing at 666 Fifth Avenue, and he's currently involved in a deal to acquire New York's famous Plaza Hotel, which Trump lost to a Saudi prince in the 1990s.
The Intercept reported last year that Kushner asked for a $500 million loan from the Qataris after taking office in the Trump White House, three weeks before the rest of the Gulf States and Saudi Arabia declared a blockade against the capital of Doha.
Follow the money
Last week, Michael Cohen's $1.2 million payday from Swiss pharma company Novartis raised the spectre of a FARA violation.
The videos from C-SPAN with Cohen meeting the Qatari diplomatic delegation are prima facia circumstantial evidence he may have violated FARA in working for that nation's government or agencies, or the Lobbying Disclosure Act.
General Flynn may also have violated those same lobbying laws if he took a Qatari payoff as alleged, which he already admitted being guilty of doing on behalf of the Turkish government.
Christopher Steele's dossier postulates that former Trump Campaign foreign advisor Carter Page would help collect a half-billion dollar brokerage commission on the Rosneft privatization deal.
But the emergence of a documented relationship between Trump's lawyer Michael Cohen, who was just caught taking all manner of corporate and foreign payoffs, and Qatar who bought the shares, suggests the potential that his "talents" in bagging illicit cash may have been needed.
It is important to note that Cohen has a lifelong friendship with Felix Sater, who is a Russian mafia associate convicted of racketeering charges for laundering the proceeds of a $60 million pump and dump scam in the 1990s from the Trump Office Tower on Wall Street. After signing an agreement to cooperate with the FBI, Sater became Trump's business partner in the lower Manhattan condo-hotel formerly known as the Trump SoHo.
Felix Sater began cooperating with Mueller only three days before the FBI raided Michael Cohen.
The pair would seem an obvious choice for Donald Trump if he was looking for help collecting a large cash payment, and hiding it or funneling it through a law firm.
Special Counsel Mueller's investigation into the Trump transition team has all of the emails from that period, and the public has long known that it is a time period of official investigatory focus.
Christopher Steele's Trump Russia dossier has been described as a jumping off point for investigators to unravel the mysterious relationship between President Trump, his family and business, and the oligarchs of the Russian Federation.
The dossier alludes to an estimated $500 million dollar quid pro quo deal between the Trump campaign and Russia to broker the sale of shares in state-owned Rosneft to a Qatar's sovereign investment fund.
Qatar's Foreign Minister visited Trump Tower with a fund manager capable of doing the deal and met with the presidential transition only five days after the transaction began to close. He arrived with a Qatari official who presumably has access to the $11 billion necessary to buy Rosneft's shares in cash, if necessary.
The meeting video is substantial circumstantial evidence that there was an opportunity for Donald Trump to be involved in brokering a deal with Qatar, and it also means that they made personal contact with his personal attorney Michael Cohen, the person most likely to quietly bag or collect money
It also substantiates the circumstantial opportunity that General Flynn had to obtain a Qatari payoff, or bribe, or payment for secret lobbying services.
Unfortunately, the videos below do not answer all of the remaining questions about the Trump Russia dossier or Mueller's investigation, but they fill in the missing link of demonstrating the relationship between Qatar and President Trump during the period one month before Buzzfeed released Steele's report.
The story continues below these videos:
C-SPAN's Trump Tower Lobby camera on December 12th, 2016  shows the Qatari Foreign Minister enter presidential transition offices escorted by Michael Cohen:
Qatar's unusual representative: a former US Attorney General
Law firm Jones Day used to work for the Trump Campaign, and White House Counsel Don McGahn had his private practice there until last year. Now, the firm won't tell Slate the whereabouts of their Qatari clients named in the "Sports Trinity" lawsuit.
Jones Day became the subject of public ridicule from the legal community last year for openly selling access to the White House. In the wake of Michael Avenatti's dossier exposing Michael Cohen's corporate payoffs, it looks like they were not the only attorneys openly selling access to the Trump White House.
In fact, al-Rumaihi procured a contract last year to hire former Republican Attorney General John Ashcroft for 90-days, to access former senior members of the FBI, Homeland Security Department, the intelligence services and Treasury officials. He was in America on a B-1 business tourist visa at the time.
Jones Day helped.
It cost the Qataris $2.5 million to hire John Ashcroft as their FARA registered agent.
The principal of the contract with Ashcroft was Ahmed Ali Al-Hammadi, a high ranking member of the QIA's leadership.
Al-Rumaihi's partner in Sports Trinity is Faisal al-Hamadi aka Faisal Abdulwahid Ali al-Hammadi, who is also the QIA Director of the Asset Management Group and their Head of Asset Management. It is unknown if the two men are related.
Sports Trinity's public relations spokesmen refused to comment when asked what Ashcroft Firm provided to the Qatari government via the QIA and Al-Rumaihi's contract for $2.5 million in just 90 days and why.
Al-Hamadi is a Harvard educated financial professional and Chartered Financial Advisor, who sits on numerous corporate boards in Qatar.
A Google search quickly reveals shows that he is business partner with fomer Ambassador Al-Rumaihi, which is verified by Qatari corporate records.
But the QIA Director Al-Hamadi has apparently deleted or suspended his LinkedIn profile recently because the link is broken.
Meanwhile, Dr. Al-Rumaihi kept his LinkedIn profile but turned it into a black hole, and he has been engaged in a heavy campaign of deletion on his Wikipedia page, ever since his 'Sports Trinity' deal collapsed into a pile of lawsuits and allegations of conducting a political influence campaign.
A representative from the Qatari group's public relations firm reached out to Washington Press after our original story about a prospective payoff to Flynn, to falsely claim that Sports Trinity (a group of three persons) has only two persons. However, their client Dr. Al-Rumaihi swore to the Central California federal court that he is partners with Al Hamadi.
Their spokesmen also refused to comment on Mr. Al-Rumaihi's visa status during his visit to the presidential transition.
The numerous allegations contained in a federal lawsuit against Mssrs. Al-Rumaihi, Al-Hamdi, and their US citizen partner from Miami point to a potential violation of FARA, America's foreign lobbying law.
In a civil lawsuit over Al-Rumaihi's attempt to purchase the most expensive townhome in Manhattan when he served as a diplomatic Consul posted to New York City, the Qatari government's lawyers pled sovereign immunity to defend the suit, but in the current Sports Trinity lawsuit, they have made no such claims.