Donald Trump's lifelong political advisor just got caught communicating directly with Wikileaks during the 2016 presidential campaign, contradicting the meaning of his public written testimony on the subject to Congress. Covering up material facts during testimony to Congress is a federal crime.
Roger Stone made a series of public statements and tweets during the last presidential campaign, which indicated foreknowledge of Wikileaks' impending distribution of emails stolen from Democrats by state-affiliated Russian hackers. But when he spoke with the House Intelligence Committee last year, Stone wrote he had: "have always clarified in numerous interviews and speeches my communication with WikiLeaks was through [a] journalist," to which he's referring to Randy Credico, whom he later named as an "intermediary" to Wikileaks.
But investigative reporter Natasha Bertrand's new story in The Atlantic reveals that Congress had evidence that Stone had in fact spoken with Wikileaks in the direct messages (DMs) on his Twitter account (image below) as the two parties coordinated their cover-up stories during the presidential election. She wrote:
A screenshot of the exchange, which has not been previously reported, was provided to the House Intelligence Committee last year by a third-party source. The private messages confirm that Stone considered himself a "friend" of WikiLeaks.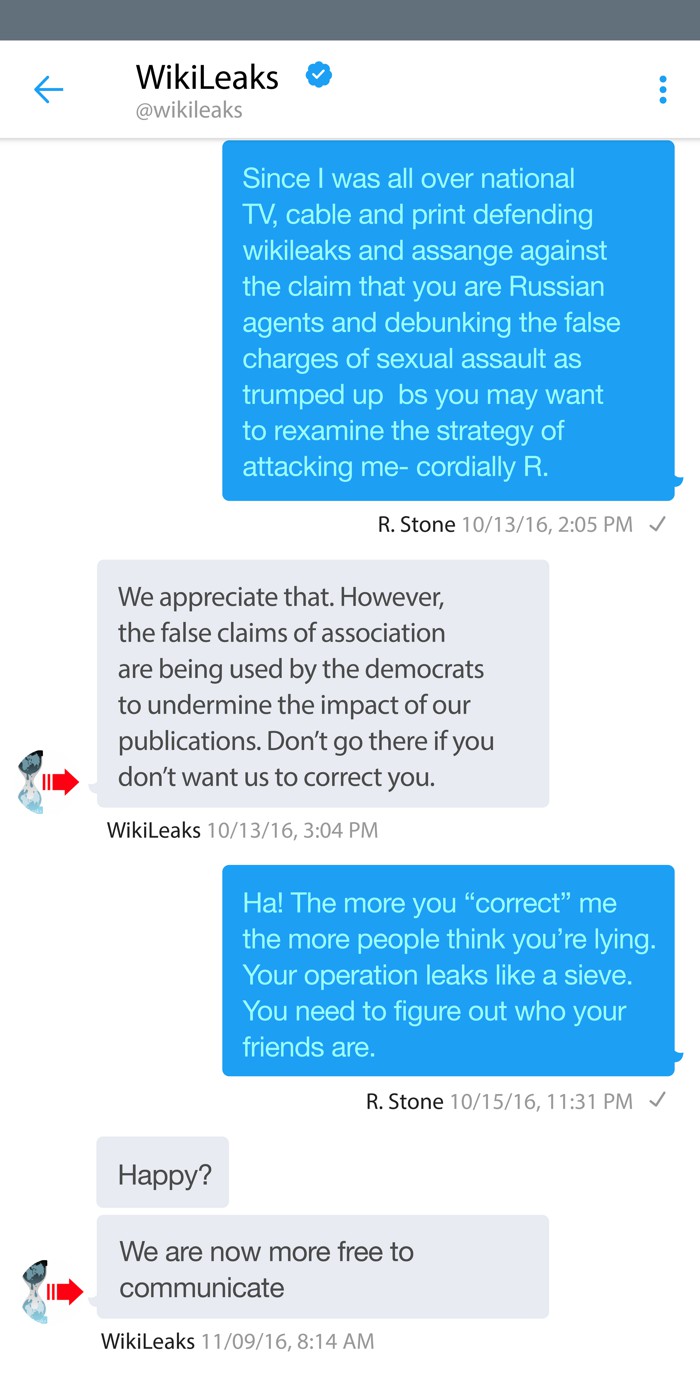 Add your name to millions demanding Congress take action on the President's crimes. IMPEACH TRUMP & PENCE!
Tonight's news means that only one exceedingly thin degree of separation existed between Donald Trump and Wikileaks.
Roger Stone gave me an exclusive interview (podcast below) where he explained his primary role in as a surrogate for the Trump campaign was keeping in direct contact with the candidate:
Grant Stern: And what was your role through the rest of the campaign? Were you frequently in touch with Mr. Trump?

Roger Stone: I was a kibitzer. I had no formal role. I had no compensation from the Trump campaign. I was a self-appointed surrogate and I spoke to him on political matters from time to time giving him my own strategic observations. You could say recommendations, but Trump isn't like your typical candidate, like I had worked for or with in other presidential campaigns. So, we had a certain comraderie, but I had no formal role.
Subsequently, Donald Trump mentioned WikiLeaks well over 100 times at rallies and on social media, mostly during the key late moments of the 2016 presidential campaign.
Stolen emails from Democrats, hacked by Russians and distributed by WikiLeaks, would determine the primary message of that election season because the mainstream media virtually ignored all other campaign issues.
Roger Stone's leaked partisan DMs with Wikileaks is politically significant for reasons that go beyond its implications for Trump's dirty trickster's completely expected lack of honesty in Congressional testimony.
Bertrand's reporting destroys once and for all whatever remaining thin shred of neutral credibility existed for Wikileaks as a "radical transparency" organization, when in fact they are really a radically secretive, pro-Trump journal.
Just read what a WikiLeaks spokesman told the Huffington Post just after Julian Assange leaked thousands of stolen Democratic Party emails, which Russia hacked more than six months before the presidential nominating convention in Philadelphia:
Assange's political views do not impact WikiLeaks, said a spokesperson from Sunshine Press, of which WikiLeaks is a project, who wrote that comments sent to The Huffington Post were "the formal positions of WikiLeaks."

"WikiLeaks is uniquely resistant to the political views of its staff since we publish pristine primary source archives," the spokesperson told HuffPost in an email on Tuesday. "All our analysis is backed [by] our full publication of primary source archives. This is called 'scientific journalism' ― which we invented."
The Atlantic reported previously on Wikileaks' secret discussions with Donald Trump Jr. during the election (leading him to Tweet the conversations), which happened right around the same time period as Assange used the account to chat with Roger Stone.
Then, two weeks ago a Wikileaks volunteer leaked over 10,000 messages to The Intercept, which demonstrated the furtive political slant of Assange's supposedly politically neutral organization.
Obviously, the only thing scientific about Wikileaks during the election was their scientific hatred of Hillary Clinton and love for Donald Trump.
There is a very good reason that public scrutiny of Wikileaks' unmasking as a highly partisan right-wing website rather than the neutral journalists they've purported to be, is crucial to the public discussion about the Trump Russia investigation, because in their very own, prophetic words:
The public scrutiny of otherwise unaccountable and secretive institutions forces them to consider the ethical implications of their actions. Which official will chance a secret, corrupt transaction when the public is likely to find out? What repressive plan will be carried out when it is revealed to the citizenry, not just of its own country, but the world?

When the risks of embarrassment and discovery increase, the tables are turned against conspiracy, corruption, exploitation and oppression.
The emergence of Roger Stone's role as a direct intermediary between Wikileaks and Donald Trump explains his Republican presidential campaign's rapid embrace of the release of Wikileaks' stolen email distribution operation.
He should face justice for his deliberate attempt to trick Congress into believing he didn't communicate directly with Wikileaks during the 2016 election.
Lastly, in light of the numerous lies exposed by Natasha Bertrand's outstanding reporting, a reasonable person can only conclude that Wikileaks is a very intentional liar about its true motives and Julian Assange is little more than an opportunistic manipulator of public opinion, but not the victim that he loves to play on television.
Here is my exclusive interview with Roger Stone: