Madame Tussauds just joined the rest of the world in showing how she really feels about Trump.
After the president cancelled his scheduled trip to London, the famed Mistress' namesake wax museum there decided to troll Trump: in his absence, they moved his wax figure into the U.S. Embassy instead.
A spokeswoman for the museum said, "Just like the rest of the country, we woke up to the news of Trump having canceled his visit," Treacy said. "And we thought: 'Wouldn't it be fun [to move] our own President Trump there, instead?'"
Last night, President Trump abruptly called off his state visit to the United Kingdom due to concerns that he would not be able to stomach the widespread protests that are expected to erupt upon his arrival.
Don't expect to hear the real reason from the President himself of course. Instead Trump concocted a complicated and pathetic excuse to blame President Obama for his snow flakiness.
Reason I canceled my trip to London is that I am not a big fan of the Obama Administration having sold perhaps the best located and finest embassy in London for "peanuts," only to build a new one in an off location for 1.2 billion dollars. Bad deal. Wanted me to cut ribbon-NO!

— Donald J. Trump (@realDonaldTrump) January 12, 2018
Add your name to millions demanding Congress take action on the President's crimes. IMPEACH TRUMP & PENCE!
In London especially the U.S. president has earned himself the ire of the masses by retweeting videos from Britain First, a racist hate group that has been dubbed the KKK of England.
London Mayor Sadiq Khan issued a statement in response to Trump's decision to cancel the trip.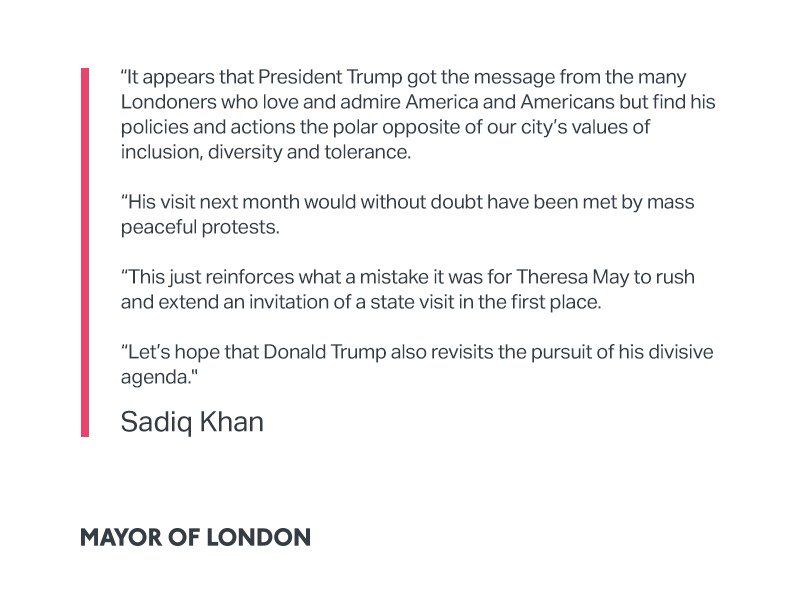 This was not the first time the two had tussled. Trump called out Khan on Twitter following deadly terror attacks in London last year, immediately drawing criticism from across the globe for shamelessly using a tragedy to shill for his own racist immigration policies.
Here he is, falling into the same bad habits. This time, he's blaming Obama for the decision to move the Embassy, when in fact it was a decision made under the Bush Administration in October 2008, weeks before Obama had even won the election.
It's just another example of Trump kicking the can down the road and covering for his own shortcomings. Looks like the British people will just have to settle for the wax figure instead. At least it won't say anything offensive.